In Mary Shelley's 1818 literary masterpiece, "Frankenstein, A Modern Prometheus," the protagonist, Dr. Victor Frankenstein, creates a sapient creature in his laboratory that crudely resembles a human being. When Frankenstein first sees his living creature, he is horrified. Unable to accept his attempt at creating a misshapen human being, he flees, leaving the intelligent creature to fend on its own.
But unlike Victor Frankenstein, the creators of artificial intelligence and ChatGPT are racing headlong toward more powerful, capable, and useful forms of AI. Rather than a misbegotten creation, they see it as a bona fide, if not logical consequence of evolutionary technology.
According to them, AGI offers the potential to remake nearly every aspect of human endeavour.
Sam Altman, the CEO of OpenAI, the company that created ChatGPT, believes that we all need time to reconcile the notion "that we may soon share Earth with a powerful new intelligence, before it remakes everything from work to human relationships. ChatGPT was a way of serving notice." (Atlantic magazine article, September 2023.)
But this doomsday sentiment isn't necessarily shared across the board, especially outside the Western hemisphere.
Global Attitudes About AI Vary Considerably
A 2019 study by The Oxford Commission On AI & Good Governance revealed that the perception of AI varies widely from region to region. The survey used data from a sample of 154,195 respondents in 142 countries that analysed basic indicators of public perceptions about the potential harms and opportunities of involving AI in personal affairs and public life.
Internationally, sentiments about technology are ambivalent at best. North Americans and people from Western Europe see the development of AI and robotics as more likely harmful than beneficial, whereas South and East Asia are much more likely to see these developments as beneficial.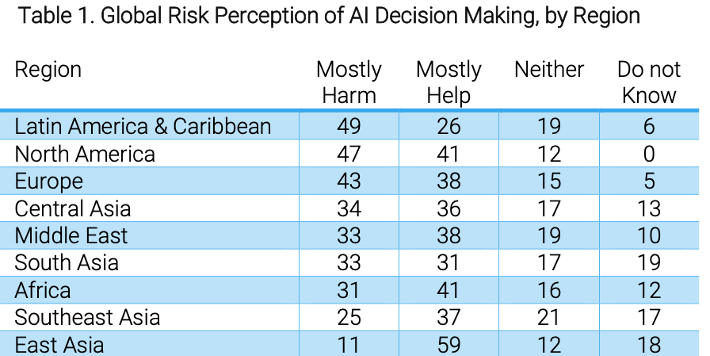 View image and read the full study here.
Technology-Enabled Disruptions (TEDs) in Southeast Asia
With their exploding populations, widespread reliance on smartphone apps to fuel business transactions and a burgeoning young demographic of tech-savvy users, emerging markets offer nearly limitless untapped opportunities for growth.
A Bain & Company research report indicates that technology-enabled disruptions (TEDs) like AI are the greatest force of progress in most developing countries. Businesses in these markets are motivated to find ways to "leapfrog" developed economies by jumping straight to the latest innovations.
To Deliver State-of-the-Art AI, You Need State-of-The-Art Connections – And Partnerships
The study suggests that global enterprises that want to integrate their AI solutions will find more acceptance in APAC, the Middle East and Africa compared to the attitudes of people in the Western Hemisphere.
But the map isn't the terrain. Setting up operations in the complex emerging markets is not as simple as the Western hemisphere. Cultural nuances, language barriers, government regulations and compliance rules create unforeseen hurdles for enterprises accustomed to the familiar landscape of North America and the EU.
When it comes to deploying AI in an emerging market, you need experienced partners who know the terrain.
About us
ULAP Networks has assisted Fortune 500 companies with our coverage in over 113 countries, specializing in cloud solutions in complex jurisdictions from APAC, MENA to LATAM.
We're partnered with leading collaboration vendors, including Zoom, NICE, Simplify360, MS Teams and CallCabinet. Work with their leading AI capabilities to bring the best of global innovation to hard to reach markets.
Reach out to us to see how we can help you with your global requirements at info@ulap.net